This is a Sponsored post written by me on behalf of Scotts Miracle-Gro for SocialSpark. All opinions are 100% mine.
One of the things that I look forward to in the fall is the seasonal decorations that begin a long holiday season. Even though September in south Arkansas is usually still very warm with temperatures in the upper 80's looking at fall decorations makes me think of cooler temps that are coming soon. The flower that comes to mind when I think of Fall gardening is the mum. I love decorating the front porch with containers of brightly colored mums. It signifies the end of summer and the beginning of fall.
I am definitely not a creative person, so I turn to Pinterest to get ideas from others who do have that creative eye. I immediately found a front porch display that I love. And it looks pretty easy too! Right now, it's easier to do container planting than to try to put them in the ground in the flower beds. And to make things even easier, I of course will turn to Miracle-Gro!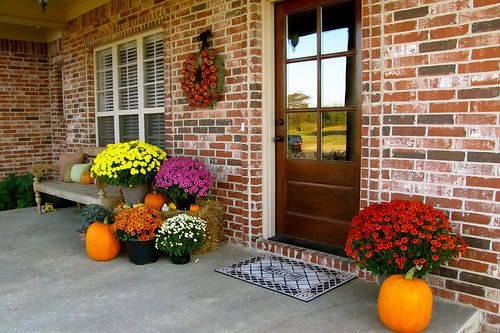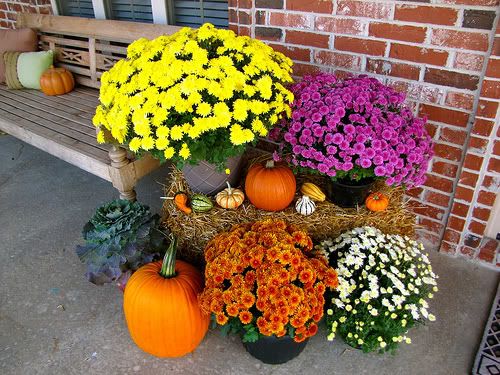 To create this fall look, you simply pot several different colors of fall mums, add a bale of hay and several pumpkins and gourds, and arrange them in a beautiful design. Using these pictures as guides, I should have no trouble getting my front porch into the fall spirit!
Miracle-Gro has many products to help me Find beauty in the Fall including Fall plant and feed products. Miracle-Gro potting mix makes container planting super easy and Liquafeed makes feeding as easy as watering. It feeds plant through both the leaves and roots. You simply attach the Liquafeed to your water hose and water as you normally would. I love combining feeding and watering into 1 step.
Looking for ideas for fall gardening? Want to share stories with fellow garderners? Visit and "like" the Miracle-Gro Facebook page and Find beauty in the Fall!